The Conservancy's Mission
The San Joaquin River Conservancy is a regionally governed agency created to develop and manage the San Joaquin River Parkway, a planned 22-mile natural and recreational area in the floodplain extending from Friant Dam to Highway 99. The Conservancy's mission includes acquiring approximately 5,900 acres from willing sellers; developing, operating, and managing those lands for public access and recreation; and protecting, enhancing, and restoring riparian and floodplain habitat.
WHAT'S NEW
Sycamore Island opens for this year on Sunday, February 1, at 6:00 a.m. The site will be open Friday through Sunday and on state holidays until November 11. For more information and hours of operation, look under the recreation tab.
Notice of Availability and Intent to Adopt Mitigated Negative Declaration
Project: Pursuant to California Code of Regulations (Title 14, Section 15072), the San Joaquin River Conservancy (Conservancy) gives notice of its intent to adopt the Mitigated Negative Declaration for the project: San Joaquin River Parkway Sycamore Island Pond Isolation Project.
Lead Agency: State of California, San Joaquin River Conservancy
Project Location and Description: The Conservancy proposes to restore an access road and repair a berm breach on the San Joaquin River one and a quarter mile downstream from Highway 41. The project would construct an equalization saddle, strengthen the existing berm, create a gravel road, and restore floodplain habitat.
Public Review Period: January 27, through February 25, 2015
Public Hearing: The San Joaquin River Conservancy governing board will consider adoption of the Mitigated Negative Declaration at its regularly scheduled meeting March 18, 2015, 10:00 a.m., or soon thereafter, at 5469 E. Olive, Fresno, CA.
Proposed Mitigated Negative Declaration: The Mitigated Negative Declaration proposed for adoption for this project finds that the proposed project will not have a significant effect on the environment and that preparation of an environmental impact report is not required.
Click here to read the Mitigated Negative Declaration
Click here to see the project location
Eaton Trail Extension Environmental Impact Report (EIR)
The Conservancy has contracted with URS Corporation to prepare an EIR and conduct public participation activities pursuant to the California Environmental Quality Act (CEQA) for extending the Lewis S. Eaton Trail through the River West-Fresno Open Space Area located immediately west of Highway 41.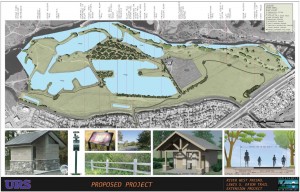 Click here to access the project details.
Governor Brown has declared a drought State of Emergency