The Conservancy's Mission
The San Joaquin River Conservancy is a regionally governed agency created to develop and manage the San Joaquin River Parkway, a planned 22-mile natural and recreational area in the floodplain extending from Friant Dam to Highway 99. The Conservancy's mission includes acquiring approximately 5,900 acres from willing sellers; developing, operating, and managing those lands for public access and recreation; and protecting, enhancing, and restoring riparian and floodplain habitat.
WHAT'S NEW
INFORMATION
Olive Avenue will be closed starting April 10, 2017.
Click here for directions to the San Joaquin River Conservancy.
DRAFT ENVIRONMENTAL IMPACT REPORT AVAILABLE FOR PUBLIC REVIEW
Eaton Trail Extension Environmental Impact Report (EIR)
The EIR and proposed project will be considered by the Board at a future meeting.  The Final EIR will be made available for review in advance of the meeting.  Please check this website for future meeting announcements, Board agendas, and proposed final documents
The Conservancy has contracted with URS Corporation to prepare an EIR and conduct public participation activities pursuant to the California Environmental Quality Act (CEQA) for extending the Lewis S. Eaton Trail through the River West-Fresno Open Space Area located immediately west of Highway 41.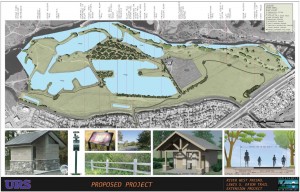 Click here to access the Draft EIR
Governor Brown has declared a drought State of Emergency