The Conservancy's Mission
The San Joaquin River Conservancy is a regionally governed agency created to develop and manage the San Joaquin River Parkway, a planned 22-mile natural and recreational area in the floodplain extending from Friant Dam to Highway 99. The Conservancy's mission includes acquiring approximately 5,900 acres from willing sellers; developing, operating, and managing those lands for public access and recreation; and protecting, enhancing, and restoring riparian and floodplain habitat.
WHAT'S NEW
INFORMATION
Olive Avenue will be closed starting April 10, 2017.
Click here for directions to the San Joaquin River Conservancy.
San Joaquin River Parkway Sycamore Island Pond Isolation Project
Lead Agency: State of California San Joaquin River Conservancy
CEQA Responsible and Trustee Agencies: California Regional Water Quality Control Board, Central Valley Region; California Department of Fish and Wildlife; Central Valley Flood Protection Board; California State Lands Commission, and U.S. Army Corps of Engineers.
Project Location: Near River Mile 253.5 on the right bank of the San Joaquin River about 1.6 miles downstream of the State Route 41 Bridge in Madera County, and on the left bank of the river in Fresno County.
Project Purpose: The Proposed Project will restore alternate vehicle access to the Sycamore Island recreation area by repairing a berm breach, isolate a gravel pit (Pit 46e) from the river channel, and create and restore habitat.
Abstract: Repairing the breached berm is necessary to provide access between Sycamore Island and the Van Buren Unit of the Parkway, consistent with the goals of the adopted Parkway Plan and the River West Madera Plan. The Project would repair the existing berm breach, including constructing an equalization saddle, strengthening the existing berm, and creating a gravel road on top of the saddle and berm. The Project will also isolate the gravel pond from the river channel, create floodplain habitat, and restore riparian habitat. Two onsite borrow sites may be excavated for fill. The borrow sites would be restored; a portion of the one closest to the river would be restored as floodplain habitat. The Project will serve multiple objectives:
Provide a management road and future trail access between the Parkway units;
Provide emergency access and egress for Sycamore Island;
Protect the berm and road from damage from river currents and floods;
Isolate the warm-water gravel pond from the river channel and provide for off-stream recreational fishing; and
Restore floodplain, riparian, and fisheries habitat as feasible.
Click here to view the Mitigated Negative Declaration
Click here to view the map
DRAFT ENVIRONMENTAL IMPACT REPORT AVAILABLE FOR PUBLIC REVIEW
Eaton Trail Extension Environmental Impact Report (EIR)
The Conservancy has contracted with URS Corporation to prepare an EIR and conduct public participation activities pursuant to the California Environmental Quality Act (CEQA) for extending the Lewis S. Eaton Trail through the River West-Fresno Open Space Area located immediately west of Highway 41.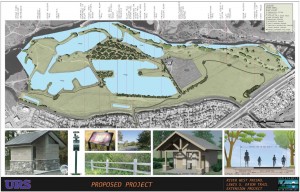 Click here to access the Draft EIR
Governor Brown has declared a drought State of Emergency