The Conservancy's Mission
The San Joaquin River Conservancy is a regionally governed agency created to develop and manage the San Joaquin River Parkway, a planned 22-mile natural and recreational area in the floodplain extending from Friant Dam to Highway 99. The Conservancy's mission includes acquiring approximately 5,900 acres from willing sellers; developing, operating, and managing those lands for public access and recreation; and protecting, enhancing, and restoring riparian and floodplain habitat.
WHAT'S NEW.
The City of Fresno will be working on the Eaton Trail bridges the week of February 12 through 16, and users will be routed on detours or experience slight delays.
Sycamore Island is now open for the 2018 season. For more information, please visit the Sycamore Island Facebook page or call (559) 801-8690.
Notice of Intent to Certify a Final Environmental Impact Report and Notice of Public Hearing
Pursuant to California Code of Regulations, title 14, section 15089, the San Joaquin River Conservancy (SJRC), as Lead Agency under the California Environmental Quality Act (CEQA) provides notice that it has completed a Final Environmental Impact Report (Final EIR) for the San Joaquin River Conservancy River West Fresno, Eaton Trail Extension Project. A copy of the Final EIR is also available for review at San Joaquin River Conservancy Office, 5469 E. Olive Avenue, Fresno, CA 93727.
The certification of the Final EIR and approval of the project or an alternative are scheduled for consideration at the November 15, 2017, SJRC board meeting. The meeting will be held at Fresno City Hall Council Chambers located at 2600 Fresno Street, Fresno CA 93721 at 10:00 a.m. The agenda and any updates will be posted here.
If you have any questions, or would like a CD of the Final EIR mailed to you, please contact Rebecca Raus at (559) 253-7324 or Rebecca.Raus@sjrc.ca.gov.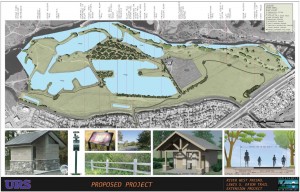 Governor Brown has declared a drought State of Emergency